Productivity & Collabortion
A suite of productivity and collaboration-focused features to help boost performance and take out bottlenecks for your team and your clients.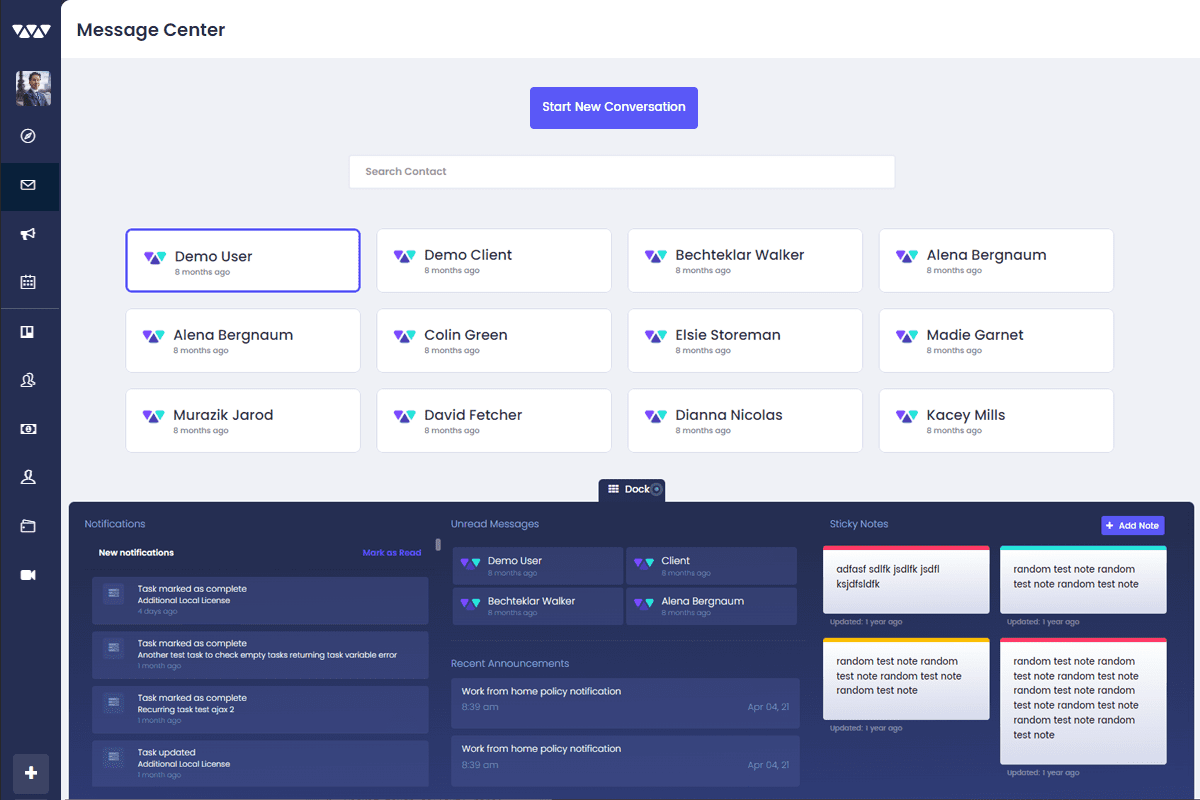 Dock
Right at the bottom of your screen, there is a button that says "Dock" click it a panel will popup. All your notifications live here along with unread company announcements and unread direct messages and your own personal sticky notes. This dock and its elements are with you everywhere in the platform.
Announcements
Push announcements to all your staff or your clients with a single click of a button. Announcements track who has seen to remind if anyone is not updated with the crucial developments.
Custom Fields
Stuck at some function and need more information? Head over to settings and include a custom field of any data type that suits your requirement.
Zoom Meetings
Conduct Zoom meetings with your team and your clients as well from within Workpark without the need of opening or Signing in the Zoom app. Your entire team can connect using the same company account which is connected when the Zoom module is configured for the first time.
Meetings & Events
Need to schedule company events or in-person meetings. Use the general meetings tab for the purpose.
Template Builder
Use the integrated drag and drop template builder to create beautiful and professional-looking templates for your quotes, invoices, proposals, and even contracts (coming soon).
Direct Messages
Ask your quick questions and long back n forth discussions right within the platform. No need of any additional app for basic communication.
Embeddable Forms
With a simple drag and drop quickly create straight to the purpose forms for both lead generation and raising support tickets. Embed these forms into your website or any web platform to get the data right into your CRM automatically.
Files & Documents
Files let you attached relevant media or documents in most functional areas such as projects, employees, clients and more.